Dental Implants vs. Mini Implants

Rochester, NY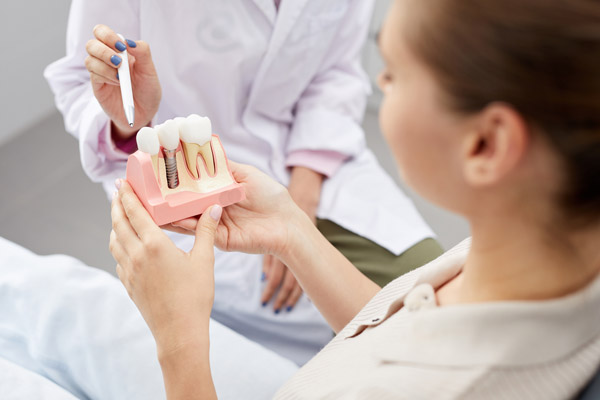 Millions of patients worldwide face dental health problems. The most commonly reported problem is tooth loss due to bacterial infections and gum disease. While many patients opt for dentures due to the lack of awareness of modern tooth replacement techniques, they face slipping issues when eating some foods. Dental implants are ideal in this regard. They offer proper support to the replacement teeth to withstand chewing pressures.

Dr. Ruchlin and recommend getting a dental implant to deal with the problems of missing teeth. We will advise you on whether you need mini implants or regular ones.


Dental implant restoration refers to performing a surgical procedure on the jawbone to create a foundation for replacement teeth. Oral surgeons use screws to hold the implant in the bone. Once healed, they place replacement teeth above the implants to restore chewing practices. Since dental implants rest in the patient's jawbone, they can withstand excessive chewing pressures like natural teeth.


The dental implants vs. bridges debate often leaves patients confused. Dental implants settle within the jawbone tissues, allowing the bone to develop around the implant. On the other hand, a dental bridge creates a bridge over consecutive missing teeth using artificial replacements and crowns. Generally, dental implants last longer than bridges.


Another common debate among dental patients is the implants vs. dentures comparison. While both serve a similar purpose, the installation procedure and limitations vary for each. If you choose dental implants, your oral surgeon may incise the jawbone tissues to place the implants. On the contrary, dentures fix above the jaw in the missing teeth cavities. Dentures do not require surgery. However, you may only exert a limited chewing pressure on the denture to avoid slipping.


Are Mini Implants Different From Regular Implants?

Mini dental implants and regular dental implants serve the same function. The only difference between the two is their size. Typically, mini implants are ideal for single-tooth replacements. They have the size of a toothpick. You may need regular implants if you have multiple missing teeth, including those covering the jaw. They are bigger and require abutments to support the replacement teeth.


Does it Hurt When You Get Implants?

Oral surgeons perform dental implant procedures in the jawbone tissues. They use a local anesthetic to minimize pain while performing the surgery. You may notice some pain when the anesthetic effect wears off. However, following the prescribed routine can help you overcome post-surgery pain.

If you have missing teeth, you have nothing to be shy about. Dr. Ruchlin and at Stephen L Ruchlin DDS offer thorough consultancy to dental patients with missing teeth. They can thoroughly examine your condition and suggest the best solution for you. Feel free to call our clinic today at (585) 427-7820 to schedule your appointment.