Dental Implant Procedure

Rochester, NY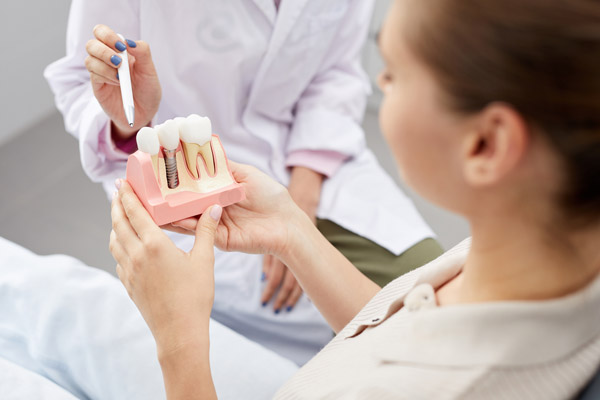 Dental Implants are sometimes not an option for people who require them. If they avoid it, they can find themselves in greater trouble ahead with more expenses to bear than before. The dental implant procedure can seem daunting, but it's a rather mature step to take toward healing.

At Stephen L Ruchlin DDS, Dr. Ruchlin and can provide you with a much better understanding of the process and all that you should and shouldn't do.


Lifestyle Change with the Dental Implant Procedure

Before you go forward with your dental implant procedure, you need to prepare your meals. Evidently, you cannot eat everything, so you have to be careful with your diet initially. Following your dental implant procedure, you will have to alter your diet. Restrict yourself from firmer food items such as crispy and crunchy foods.

Lean toward a more liquid diet, or semi-liquid, if that helps. Before your procedure, prepare some foods so that if you feel any pain or discomfort, you don't have to rely on the process of cooking something. During this time, it's best if you eat homemade food. Dr. Ruchlin and will guide you on the types of foods you can eat and drink. Smoothies can be a great option during this time.

The dental implant procedure should not cause you much pain. More than pain, you may feel discomfort. Dr. Ruchlin and can help prescribe painkillers to ease off pain if it occurs at night, especially.

For the first two to three days, you will have to devote yourself to ensuring that your implant heals and you begin to feel better as soon as possible. This might be something that may already be on your mind, but you should also arrange for a ride home after your dental implant procedure.

The night following your dental implant procedure, ensure you go to bed early. This is not just to accelerate the healing process but going to bed early is a good way to ensure quality sleep. This way, you complete the sleep cycle naturally. When your body follows a natural rhythm, it feels like it has more energy. This helps speed up the healing process.


How Do You Know if You Need Dental Implants?

Not everyone with dental issues needs a dental implant. Before you plan on getting one, you can have a sit-down with Dr. Ruchlin and , who will explain the entire process and how a dental implant compares with a real tooth. They will also analyze your current condition and suggest a treatment plan accordingly.


Contact Us for a Consultation Today

Schedule an appointment with us at Stephen L Ruchlin DDS. You can call us at (585) 427-7820 and set a time to find out if dental implants are safe for you.