Patient Testimonials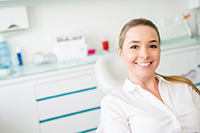 We love to hear from you!

We love hearing from our patients, take a moment to leave us a review on Google or Yelp or Facebook or Healthgrades.


Read what our other patients have been saying:
Bo S.
The ambience is relaxing, the people are nice, and it's always a pleasant experience here! Even when I lived in New York City, I kept my dental appointments scheduled with Dr. Ruchlin during my holiday returns to Rochester because there was no way I would be able to find anywhere else nearly as good!
Daniel S.
Dr. Ruchlin's office does a phenomenal job. They are of the utmost professional and courtesy. They do a terrific job caring for their patients, identifying the best practices and procedures and doing what is best for each and every patient!
Drew D.
Dr. Ruchlin and his staff are remarkable! I was welcomed as a new patient in July, and I'm very satisfied with the professional care that I've received. Dr. Ruchlin, Maria, and Karen have shown patience, compassion, and expertise during each appointment. I also appreciate the text message reminder that I receive prior to my appointment!